Simple CRM designed for Small Business
Find out how popcorn has helped Small Businesses like yours sell more, faster.
See how popcorn has helped our customers:
popcorn gives me sanity; it helps me to plan all my sales activity and is my safety net! …all our different leads from our marketing activities are now joined up, giving our team visibility.
It was really easy to transfer our data from HubSpot, and popcorn's customer support was amazing! Now we no longer have to worry about forgetting anything or using our CRM, because popcorn is so simple to use.
We would not have achieved the results we have seen without utilising popcorn, it has been the best thing we could have ever imagined and more. The simplicity, insight and control it gives us is absolutely invaluable. It's not rocket science - it just works!
Since using popcorn's measurable data we have managed to increase business levels from 1,750 to 6,386 cases last year. They have also more than 'doubled the number of completions in the last 5 years and attest a huge amount of that to the simplicity and intelligence of the popcorn system.
'It's easy to use and I can see at a glance who I need to call along with the intelligence on what I need to talk to them about.' popcorn removes the stress from customer communications, so I can focus on building relationships
...It allows me to gain control over my sales process and keep in active contact with all of my customers and suppliers. Being able to email and track activity directly from popcorn gives me the intelligence of knowing who to follow up with and when.
Over the next 2 months popcorn delivered new sales (185:1 ROI) and a reduction in stress as I was able to predict exactly who was engaging. This then freed up a working day each and every week.
Everything about popcorn is so simple yet effective. It's exactly what we need…
We were able to start using popcorn immediately, allowing us to organise all our data in one place, easily segment and communicate with the different customer groups, automatically track and target prospects.
Trusted by Small Businesses
How to use popcorn in simple 4 steps
Step 1 – Join up your prospecting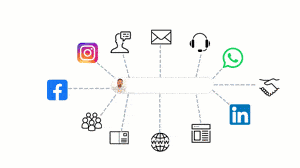 Start by bringing all your and your teams on and offline prospecting activities together in one simple to use place, Meaning both you and your team never miss a sale or an opportunity.
 Step 2 – Target and nurture prospects
Track your prospects along highly visual pipelines, that exactly mirror your sales process. Then target and nurture them along the stages with reminders, simple yet powerful automations, email marketing campaigns. Then let the prospecting tools, identify your hot prospects for you – so you only focus on the prospects who are ready to buy.
Step 3 – Easily manage all your prospects in one place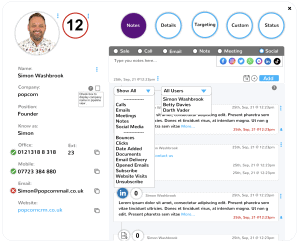 popcorn then brings all this intelligence together into a simple timeline, so you can see the bigger prospecting picture, meaning you always know who, why and when your prospects are ready to buy from you.
Step 4 – Manage the whole customer cycle
Seamlessly transfer your prospects to your accounts package, managing their journey along your customer journey and then back into your sales cycle. So you become more profitable and never miss a sales opportunity. 
Join over 17,000 small businesses to get monthly tips on nurturing your prospects
Are you ready to get started with popcorn CRM?
*FREE 5 Day Trial of popcorn CRM, then £5+VAT per month. No Set-Up Fees, No Contracts, No Hidden Costs