After you write a perfect copy for your sales email or newsletter, you'll want to a/b test the best day of the week to send your emails. According to MailChimp's 'Email Genome Project' more emails are sent on Tuesday and Thursday than any other day of the week. You should test sending emails on one of the other days to see if less competition for inbox space increases your open and click through rates. Research by Zarella at HubSpot suggests that doing so can impact your results pretty drastically:
The team at What Counts decided to test what the best day of the week to send their e-newsletter was. Traditionally they would send it on Thursdays; however, they wondered if sending on Tuesdays would be more impactful. When the team ran their test they learned that sending on Tuesdays increased their open rates; however, sending on Thursdays resulted in higher clickthrough and conversion rates.  If they had simply started sending the e-newsletter on Tuesdays without A/B testing the send day they would have missed out on conversions.
The final key aspect for testing and optimizing your email campaigns are send times. According to the Email Genome Project, subscribers are most likely to open email between the hours of 2pm and 5pm. I asked the MailChimp team is these hours are time zone specific and was told they are not; the times represent the best times to send in whatever your local area is.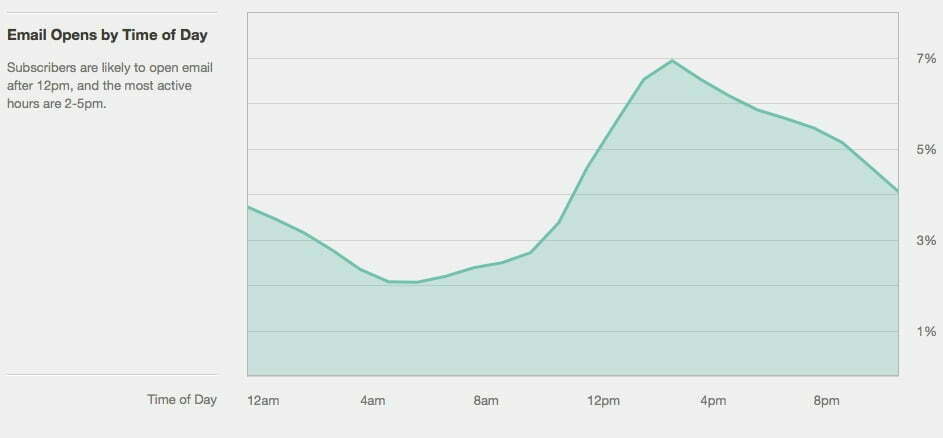 That being said, Zarella's research suggests that while open rates may be highest in the afternoon, click-through rates are highest in the early morning, peaking around the 5 to 7am marker.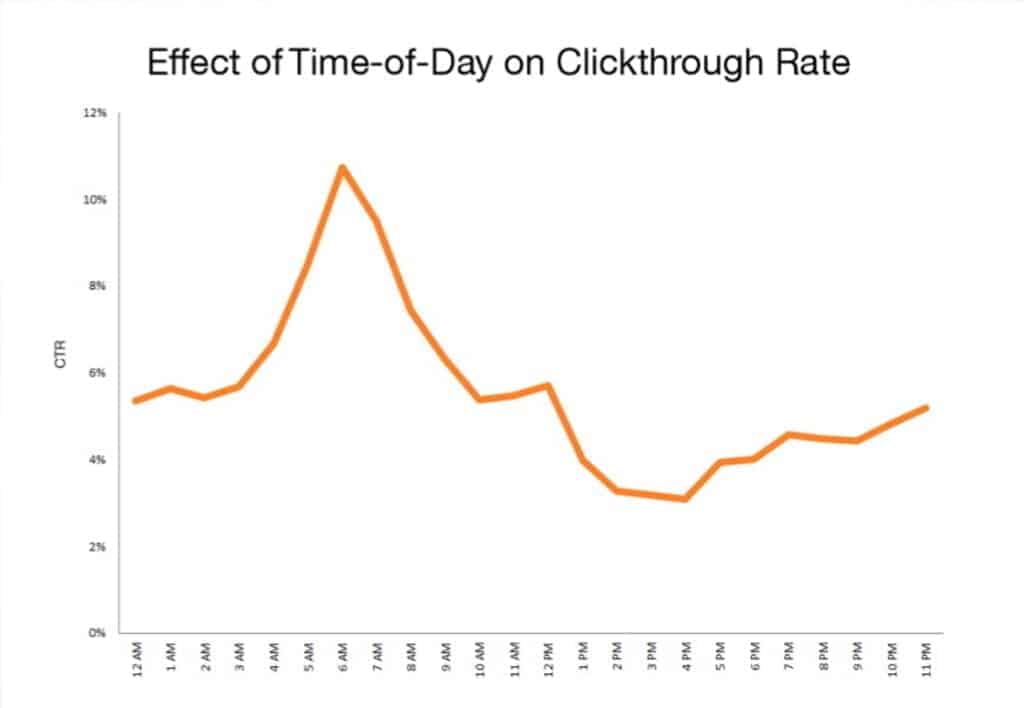 To find the best send times for your emails the best thing to do is to run a/b tests. You'll want to track the email and click through rates of course, but even more important the conversion rate on those emails. Your email marketing software should come equipped with a/b testing capabilities. If it does not I recommend switching to a platform like GetResponse, MailChimp,Aweber or Campaign Monitor. To take your campaigns even a step further you could tailor your send times to each individual recipient based on their history like Mint.com did. Mint's senior director of marketing worked with her email provider to analyze recipient behavior on a rolling basis and predict the best delivery time for each address on the mailing list. According to MarketingSherpa which put together a case study around Mint's behavioral targeting:
If recipient A displayed a tendency to open emails at 5 p.m., Mint.com's campaigns, alerts and triggered messages would be sent at that time.
If a recipient B often opened emails at 3 a.m., all messages would be sent at that time.
If recipients started opening the emails at different times of the day, the system adapted and began sending according to this newly exhibited behaviour.
This approach lead to a 7% increase in open rates and 13% increase in click-through rates.
Another company called eBags also took this approach and they saw a 20% increase in click-through rates, 65% increase in conversion rates and 45% increase in average order value.
popcorn is a smart, easy-to-use and efficient platform that not only helps you compose beautiful emails and newsletters but also helps you manage your sales funnels and leads. If you would like to test popcorn and see if it could help improve your email marketing game, you can sign-up for the free trial here.