Prospect Management Made Simple for Sales Coaches
Who benefits from using popcorn?
We work with sales coaches who want to work faster and smarter.
Sales coaches typically use multiple marketing tools like MailChimp and Excel, but often are not yet ready for the more time-consuming solutions like HubSpot.
This is where popcorn comes in – bringing in, on average, an ROI of £185 for every £1 spent! 
popcorn brings your customer data together in one place with all the essential marketing tools you'll need. With popcorn, you can easily segment your contacts and be able to track prospect activity online, then target sales using the powerful lead qualification features.
Plus, there are no hidden upgrade fees and all of this is backed up with responsive and friendly phone support.
A typical sales coach using popcorn achieves:
Up to 5 hours saved every week
ROI of £185 for every £1 spent
Increased sales conversion rates – by 200%
Up to £14k per year saved than on a similar HubSpot subscription  – see case study opposite!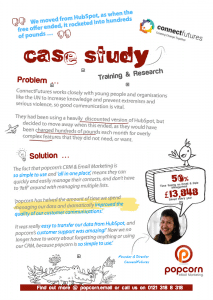 What are sales coaches saying about us?

See how we make prospect management simple for sales coaches
All of this is backed up with friendly customer support via the phone and our quick, simple 'How To' videos – so you can focus on the important stuff.
What sales coaches love about popcorn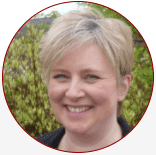 Popcorn provides robust lead qualification features to help prioritise and maximise business opportunities and I am very impressed by the back-up service provided by Simon and his team.
Is popcorn right for my business?
Finding the right Customer Acquisition System can be a minefield. But there is an answer!
Below is our simple guide to what suits a business at each point of their journey.

As a start-up, you might be using loads of free or entry-level software that allows you to get the job done; but now you realise that your data needs to be all in one place and you find yourself wasting time and effort just to keep on top of it. 
A typical popcorn customer is looking for a simple solution that brings all the essential marketing tools together, so they can quickly and easily manage their data and convert customers faster, whilst allowing them to grow into a larger solution when they are ready.
Click HERE to learn how popcorn helps growth businesses, or book a Demo.
A typical large business will be looking for a fully customised software solution to deliver complex reporting to their management team. 
To achieve this they will usually undertake lengthy implementation periods, detailed training sessions and be prepared to endure expensive monthly fees.
How we are rated by sales coaches