We're back, and we're ready to do it all over again!
Following our previous CRM comparisons article, we've decided to keep the ball rolling and provide more CRM reviews to help you decide which CRM suits your business. Last time, we looked at HubSpot, Pipedrive and Copper. This time, we'll be reviewing these CRMs:
We'll be looking at popcorn to see where our CRM fits in next to them.
As with the previous article, our aim is to provide you with an introduction to the different types of CRMs out there. Each has their advantages and specialities, as long as they're paired with the right sort of business. We want you to look at these CRMs and match them with what you need, so you can see the features you should be expecting from your CRM, as well as the price ranges that work for you.
After all, you need a CRM you're actually going to need, not software you're going to push the side! So without further ado:
CRM Comparisons: Zoho CRM

Similar to HubSpot, Zoho offers a CRM tool as one of their many available business apps, providing a customer relationship management service that covers all possible aspects of data management for sales and marketing departments, amongst features like project management, etc.
Zoho CRM caters to all business sizes and types, from small businesses to corporations with different departments, so those with a more sales-led focus are likely to gain from using Zoho. This aptitude for larger businesses is reflected in the myriad of features they offer.
Lead management, workflow automation, advanced analytics, process management, marketing automation, iOS and Android apps, developer platform, project management, lead scoring, in-built gamification, forecasting, time management, AI predictions, Google integration, customer support…
What are their price packages?
Zoho offer five packages: Free, Standard, Professional, Enterprise and Ultimate. For all of their features in their packages, please click here.

Free: Free Forever for up to 3 users
Standard: £16/user/month
Professional: £28/user/month
Enterprise: £40/user/month
Ultimate: £52/user/month
As it is a CRM app amongst many, Zoho offers many integrations, including but not limited to its other services it offers. Its UI is clear and its main star features is its customisation, as you can set what you need to customise and don't. Keeping up with your business is streamlined: importing or exporting data is easy, and the mobile apps on both iOS and Android mean you can access it on the go. Zoho also offers a lot of complex reporting, so you will be well catered for if this is your main consideration in your job.
What should you be aware of?
With its flexibility comes a requirement to customise exactly how you need it, from the very start. This is whilst you're also being introduced to the CRM; this can be a steep learning curve, so make sure you have the time to accommodate for that on an ongoing basis. As external companies can help train you with setup and running the CRM, you do incur extra costs that way. There are also other CRMs with more highly-rated customer service support. Integration, despite it being so core to the CRM, can be clunky. Finally, the Campaigns aspect of Zoho's email marketing tools can be lacking, with no communication to the CRM, so if email marketing is foundational for your marketing strategy, the reporting is something to be mindful of.
CRM Comparisons: Zoho Summary
Zoho have aimed their CRM at everyone, but you'd need to have a lot of money to spend on them in order to make the most of the tools across your business. It's true that these are extensive features, with great capabilities, but while it starts cheap, moving from the free trial to paid Zoho plans means you'll get hit by setup and monthly fees very quickly. If you're a business that is trying to grow and can't budget for that, we would suggest holding off until your business is bigger. However, if you are a larger business with a healthy budget underneath you, it could be an option.
CRM Comparisons: Really Simple Systems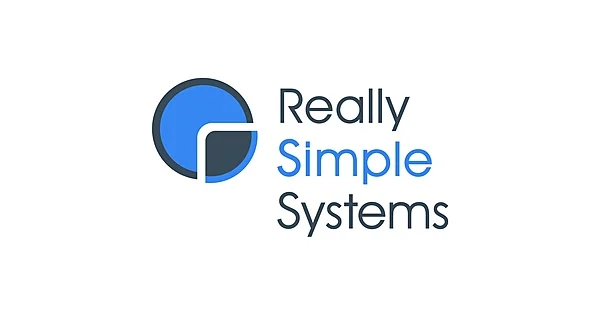 Really Simple Systems is a CRM that brings it back to basics as a core advantage of their platform, touting their streamlining of data as a reason to get your team on board with a CRM.
Really Simple Systems' basic nature means that although it can be onboarded by all businesses, the features suit businesses that only need very little management.
Sales automation, lead management, reporting, overview/user dashboards, email campaigns, customisation.
What are their price packages?
Really Simple Systems offer four packages: Free, Starter, Professional and Enterprise, plus add-ons. For all of their features in their packages, please click here.

Free: £0 (for up to 2 users)
Advanced: £12/month – billed monthly
Professional: £25/month – billed monthly
Enterprise: £38/month – billed monthly
What does Really Simple Systems do well?
RSS does what it says on the tin. It has gone very much back to basics with its CRM, so you can focus on contact details and notes with its core features, as opposed to more in-depth tools required by other businesses. They also have a reputation for excellent customer service.
What should you be aware of?
The initial setup is can be a learning curve, though the customer support provided will get you through it. Although they offer lots of customisation, there could be more, and this is the same for the marketing module and searches tool. There are some integrations that business could benefit from, which currently don't exist within RSS. The reporting and costing can be limited, which can in turn limit you if you're a big or small business, so if these are your priorities this is something to look out for.
CRM Comparisons: Really Simple Systems Summary
Really Simple Systems has spread itself to work for different sizes of companies, but its simplicity might be a drawback for those who need more complex tools for their businesses. If you're focusing on reporting, also, you might prefer a CRM that has a dedicated specialisation.

popcorn is a simple CRM & lead management tool that has been specifically designed for small businesses. All of the bells and whistles of other CRMs have been ignored in favour of the essential tools that small businesses actually need and therefore will definitely use to track, manage and convert more prospects.
It's designed for small business owners, or sales/marketing people within small or medium-sized businesses dealing with the sales and marketing aspects of running a business—such as those want to bring all their contacts and prospects together into one simple and highly visual place, so that they can easily manage, nurture and identify more prospects.
CRM, drag and drop sales pipelines and contact information, email marketing, landing page designer, lead generation, lead management, reporting, automation, website, multi-user/tiered accounts, and email tracking. Landing in 2021: integration with Zapier.
What are our price packages?
popcorn offers three packages: CRM-only, Nurturing, and the Teams package. For all the features, please click here.
CRM – £9/monthly – 1+ users
Nurture – £49/monthly – 2+ users
Teams – £99 – coming in 2021 – 2+ users/multi-tiered accounts
What does popcorn do well?
popcorn's core focus is on simplicity, so that small businesses can focus on what is needed without distractions, without pressure. The platform's focus is on lead management and prospect nurturing, with customisable drag and drop pipelines. Everything is designed to be visual, so you can see what you're achieving. There is customisation throughout the software, within the email marketing capability and the landing page drop-and-drop editor. Other notable mentions are the tracking it provides, a unique mix of IP fingerprinting, for website and email tracking to keep you notified of your prospects' engagement. All of this is backed up with friendly customer support. Part of its 'popcorn promise' is that there are no contracts or hidden fees, so you won't be surprised by a big bill all of a sudden.
What should you be aware of?
As simplicity is the goal, the features are just the essentials, which is why popcorn is aimed at small businesses and not big businesses or enterprises. If you're looking for something all-singing, all-dancing, with complex reporting, this isn't the type of CRM that would suit your business. Having a one-user view is also a consideration, but a multi-user option in the Teams package will be available from 2021. 
CRM Comparisons: popcorn Summary
popcorn takes the concept of simplicity very much to heart, but without skimping on capability. If you're a small business owner or sales manager with not a lot of time on your hands, or have had previous experience with overly complicated CRMs, popcorn is a worthy consideration to help your business grow.
CRM Comparisons: Less Annoying CRM

Less Annoying CRM touts a no-nonsense approach, offering nothing else except for the basic features for a CRM that a small business might need.
Less Annoying CRM have designed their service for small businesses, and particularly those that don't need a lot of tools to start with. They're best suited for businesses with fewer people involved in the sales and marketing process, so business owners of small businesses too.
Contact management, data management, customer database, customer support, interaction tracking, lead management.
What are their price packages?
Less Annoying CRM offers the one price: £15 per month per user. There is also a free trial. To see more, please click here.
What does Less Annoying CRM do well?
The back-to-basics approach informs everything about Less Annoying CRM, so if you need to go to the basics, then Less Annoying CRM should suit you. It's easy to use, highly customisable, and also easy to organise. Their contact management, as a core aspect of the CRM, makes importing and managing contacts a lot simpler.
What should you be aware of?
Because it is so pared back, Less Annoying CRM has less automation than some of its competitors, it doesn't offer prospect nurturing tools, website tracking or email marketing capabilities. You can integrate to Mailchimp, but Less Annoying CRM connects best with Google products, such as the calendar, which can inconvenience Apple users. The £15/month pricing is the only pricing they offer, so a staggered approach with more features isn't available.
CRM Comparisons: Less Annoying CRM Summary
Less Annoying CRM have packaged a no frills product that suits businesses who aren't asking for any complicated tools. But if you rely on tools being in one place, such as automation for your sales or marketing, you're probably better off looking for alternatives.
Summary for CRM Comparisons Overall
Hopefully, these reviews have given you another insight into the myriad of CRMs available to businesses. What you need to look out for is whether you're getting the most out of your CRM—that means having every tool you need, and not wasting time on the features you don't. The idea is to maximise the time you spend on your CRM, whilst keeping it relative to how much your business needs you to spend time on it. This way, you're not losing precious time that you could be investing in more leads and more sales.
Enjoyed this post? Comment below or read through our blog for more lead management and CRM tips, especially for small businesses.