Customer Buying Cycle: Close
Explore the fifth stage of the customer buying cycle
Turning a Prospect into a Customer
Now that you have segmented your contacts and picked the hot prospects, it's time to start nurturing the others through your sales pipeline
There are a couple of ways our users do this. The most popular is to either manually progress them or create work-flow automation based upon their engagement. That means you can progress your contacts to the next stage of your sales process. You can drag and drop the contact along and see all their details in a single click.
Alternatively, you can use the segmented contacts to send targeted mails that will support you, driving more engagement and enquiries.
When you are at this stage of the sales cycle, it is often best to pick up the phone. As they're the customers you've nurtured, typically this will only be a handful of contacts. Base it around the intelligence that popcorn has generated: you should be able to have a meaningful conversation from it.
Our users sometimes find they can either generate too many or not enough hot prospects. This is where you can adjust the scoring, to refine what is flagged as a hot, warm or cool prospect, which will then all be automatically added into your New Prospects sales pipeline.
Sales pipelines are a simple and visual way of managing your sales process. You can easily evolve it with your sales process as you refine it.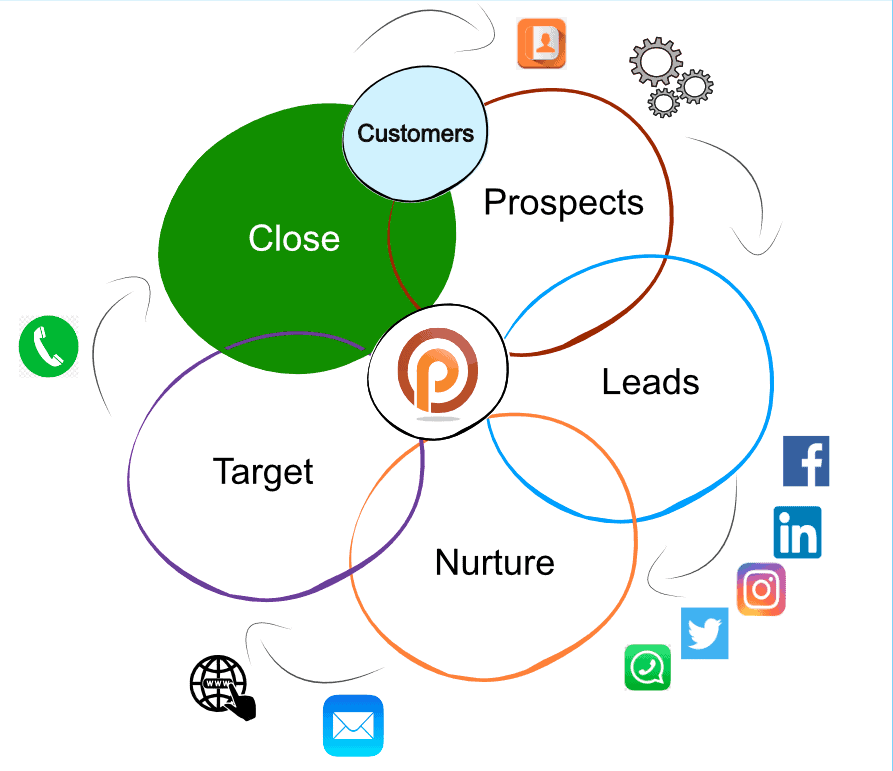 What is a business thinking?
Businesses are striking while the iron is hot; this is the last stretch to convince customers to choose them.
A business can:
Finish acquisition campaigns for customers
Adjust prospect scoring to better suit possible customers
Call to close a sale
Initiate customer retention campaigns
Businesses need to persuade customers that they are the ones worth the customer's time. Combining the intelligence you've gathered on the individual should make this process easier.
What is a customer thinking?
Customers are looking for reassurance about their decision to buy from you; a business needs to prove that decision will be worth it.
A customer is:
Asking about competition
Looking for reassurance
Waiting to be convinced on value for money
Cycling through competition to eliminate other possibilities
Customers want to feel secure in their decision. As soon as you give them a reason to feel secure, they are likely to accept you as their chosen business. Fail to answer any of their questions and they will fall back on alternatives.
Click below for the next stage of the customer buying cycle
See how popcorn has helped our customers:
Since using popcorn's measurable data we have managed to increase business levels from 1,750 to 6,386 cases last year. They have also more than 'doubled the number of completions in the last 5 years and attest a huge amount of that to the simplicity and intelligence of the popcorn system.
We get the results we want, in the quickest and most efficient way possible!
...It allows me to gain control over my sales process and keep in active contact with all of my customers and suppliers. Being able to email and track activity directly from popcorn gives me the intelligence of knowing who to follow up with and when.
Over the next 2 months popcorn delivered new sales (185:1 ROI) and a reduction in stress as I was able to predict exactly who was engaging. This then freed up a working day each and every week.
Everything about popcorn is so simple yet effective. It's exactly what we need…
We were able to start using popcorn immediately, allowing us to organise all our data in one place, easily segment and communicate with the different customer groups, automatically track and target prospects.
It was really easy to transfer our data from HubSpot, and popcorn's customer support was amazing! Now we no longer have to worry about forgetting anything or using our CRM, because popcorn is so simple to use.
Steve was able to use popcorn's 'really easy to use drag and drop editor' to create powerful emails himself. Then using the simple filters, he could quickly segment his contacts to send targeted emails in a fraction of the time it previously took.